When a young person reaches 18 years of age there are lots of opportunities that await them: adult volunteer, Scout Network member, doing the Top Awards, SSAGO (Student Scout and Guide Organisation), HSX (Hampshire Scout Expeditions) and other opportunities to stay involved.
The problem is not everyone knows about these.
Hampshire Scouts are looking at how we support people to stay involved in different ways when they reach 18. To help us though, we need your opinions.
We have created a survey as part of this project which can be accessed from the link below. It only takes a minute and helps us know which ideas will work or which need more thinking time.
It is open to Explorer Scouts, Scout Network members and adult volunteers who work with either of these sections. Please do spread the word so we reach as many people as possible.
If you have any questions, you can contact Mike Baxter, ACC Top Awards.
As an Explorer Scout the world of opportunities really opens up. From taking part in activities across the district to going for your top awards or giving back as a Young Leader there is lots going on. Even in lockdown.
With so much going on, make sure you keep an eye on our special sub-sites for these areas where you can find resources, updates and links to sign up for these areas.
Young Leaders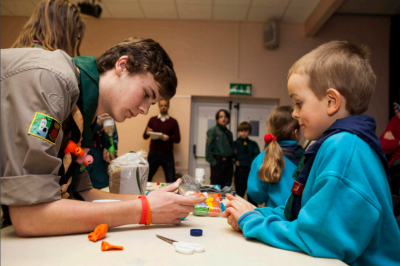 The place to find about about the Young Leader's scheme, links to resources to help you. Want a video introducing the scheme? Got it right here.
Need to find the details of the latest online courses for the Young Leader modules? Got you covered. Modules B-K kick off again on Mondays from mid-April and you can sign up over there now.
Plus they're also asking you for your opinions on what you want the Young Leader's Rally to look like this year. Check it out now.
Top Awards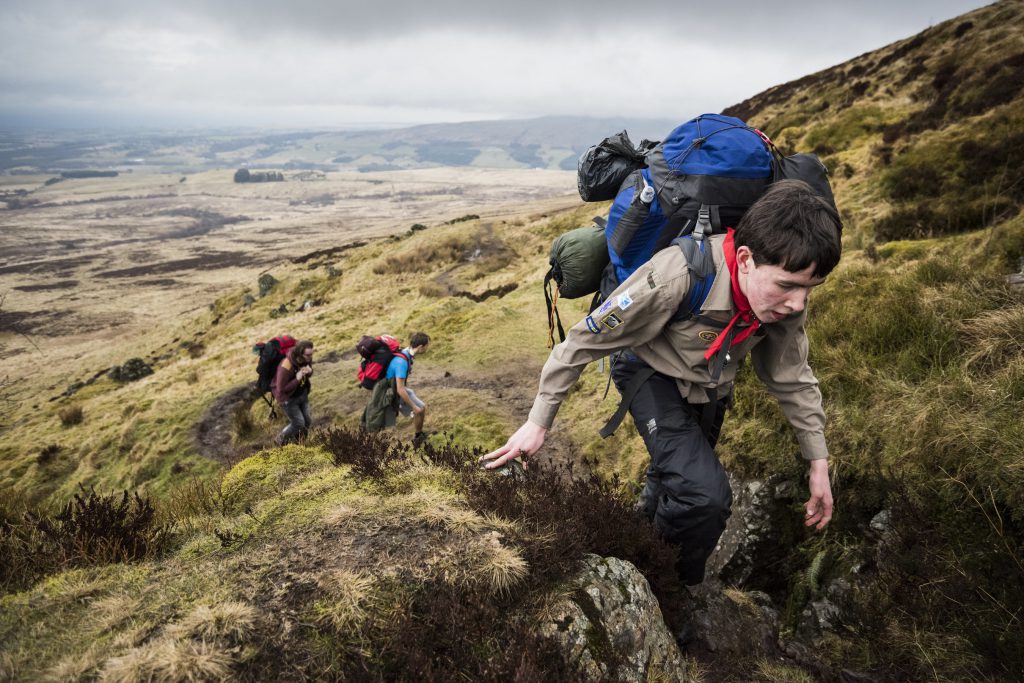 We know the most awesome part of being an Explorer is the chance to reach the top and try something new. Who knows, you might find out something about yourself along the way.
All our latest information on how to complete the Top Awards like the DofE and the Queen's Scout Award at home is right there.
Plus there's been recent dates for training where leaders can support the awards. And there's more to come - Expedition training is something we're really excited about.
Resources for everyone
Do make sure you check out our all member updates as well for ideas, support and information that benefits everyone in Hampshire Scouts.
There's been recent posts there about the most up to date programme support for when you're Scouting at a distance plus a call for helpers at Ferny Crofts when it re-opens again soon.
As Scouts we love to get outdoors and try new things. But with winter and everything going on, we know its hard to think of ideas of what to do right now. To help you deliver great online Scouting, we've pulled together our list of places to find great ideas.
Press Play activities
These two sources of activities are much newer so you may not have heard much about them yet. Both of them are prepared by Scout leaders for Scout leaders and you can pick them up and run them with your section without much planning or adaptation needed.
Press Play and Go activities are made by HQ and have a video activity you can share with your Zoom session directly with the video doing all the work. New activities arrive every week and there are activities for Beavers/Cubs and Scouts/Explorers.
1st Digital Scouts is the new kid on the block with videos by Scout Content. These videos are nice and short, follow a good structure for zoom sessions, and give you up front what you'll need. There are weekly videos for Beavers, Cubs, Scouts and Explorers ready to go.
Ideas from the grassroots
Across the UK there are loads of other leaders looking for ideas and sharing what they've found in various different Facebook groups. 1st Virtual Scout Group on Facebook and 1st Facebook Scout Group are the big ones. The posts in these groups are easily searchable and linked together in topics.
There are lots of activities out there including PowerPoints for activities, games, escape rooms and links to more external resources. Lots of charities are offering activities that can work over Zoom, the RNLI being a good example, and there are many guest presenters that leaders can invite to show off their skills or animals or whatever!
Activities linked to badges
So you may know about the new Scouts Activities tool already – it replaced the old Programmes on a Plate and is linked to the Programme Planning Tool that HQ is building and adding to. Throughout this weird time, the Scouts and the partners have been adding to this Activity index and adding new filters to make it searchable – so you can look at just online activities for example.
More usefully though, these activity listings can also be found on the pages for different badges on the Scout websites. At the bottom of these pages, below the badge requirements, is a box with activities that can be used to tick off these requirements. While some might need tweaking, there are lots of activities that you can use to get things started.
Some other honorable mentions:
Scoutadelic are a YouTube channel run by Scout leaders and they make great videos teaching lots of different scouting skills from first aid to campfire songs.
Chester Zoo have made lots of resources and activities to support people at home, with fun activities, spotting the signs of your animal visitors and more practical experiences pitched at lots of different age ranges.
Scout Adventures have long made resources to support leaders with practical Scout skills and their page also has some smashing recipes as well.
The Scouts have put together some virtual programme support webinars, to help with the basics of running a putting over Zoom if you're feeling unsure about how it will all work.
Do you need help with getting your section to meet and take part in activities or can you offer support to another group? Please do reach out and contact our programme team, who are always happy to help provide support!
Want to get your unit started on their Duke of Edinburgh's and Scouting Top Awards?
The DofE's training framework has a range of modules to suit everyone supporting the award. These modules will also include information about the links to the Chief Scout and Queen's Scout Award.
To begin, a simple e-learning induction module should be completed online by anyone supporting DofE.
Introduction to the DofE Course
This one-day is highly recommended for all adults supporting the DofE who'd like to expand their knowledge and understanding.
It covers the mission and principles of the DofE, as well as providing an excellent overview of the award's levels, sections and timescales. Before you take part, you'll be asked to complete the e-induction.
Date: Sat 06/02/2020 2-5pm - book online
Expedition Supervisors Training Course
This one-day course is highly recommended for anyone who supervises DofE expeditions. It's designed to help you understand your role and tasks, manage risk and provide the best quality experience for all young people.
Date: Sun 21/02/2021 & 28/02/2021 7-10pm - Book online
Expedition Assessor Accreditation Scheme
The aim of this one-day course is to prepare, train and accredit Expedition Assessors to understand the role.
To be an Expedition Assessor you need to have sufficient technical competence in at least one type of expedition, such as walking, horse riding, cycling, or canoeing.
You'll need to complete some online learning before you attend. Once you are approved you'll receive a certificate and an ID card with your assessor number.
Date: Sun 07/02/2021 7-10pm - Book online
Any questions? Please email Mike Baxter: [email protected]
scouts.org.uk/volunteers/staying-safe-and-safeguarding/risk-assessments
We all do risk assessments or safety checks everyday, for example, when we cross the road. We choose an appropriate place to cross, look both ways and make a decision about whether it's safe to cross.
We know that children and young people learn by doing. Activities encourage the development of young people and they can feel a huge sense of achievement in completing them. We want to provide EXCITEMENT but not DANGER; ADVENTURE but not HAZARD.
Risk Assessment starts in the early stages of activity planning and goes on throughout the activity until all participants go home at the end of the activity. There are five simple steps. If you've done risk assessments elsewhere, these should look familiar.
Kudu 2020
This years Kudu competition has been set back by storm Desmond and Covid 19 but that won't stop us!
Teams of up to 6 people from the Explorer Scout section or Network Scout section can compete by completing challenges as a team.
From photo tasks to creative carving, physical challenges to crazy contraptions there's lots of fun to be had.
All of the challenges will be able to be completed face-to-face, socially distanced, on a hike, via Zoom or working together as a team via Social Media. This will allow for any local lockdowns which might occur.
The winers will be the team who have the most overall points. To gain the most points, your team should complete as many of the challenges as you can.
To sign up and to see all the information visit the Kudu Site

Click here for the Hampshire Scouts Pennant template
Hampshire Scouts have embarked on a new project involving every Section, Group and Unit in Hampshire, bringing us all together as we start to return to normal Scouting. The idea is for each Section, Group and Unit to create a pennant so we can join them together and display them at Activity Centre locations and future events.
We would like your Section, Group or Unit to design and draw these pennants, using the provided template. For your pennant, we would like your young people to draw a picture on the front of something they enjoy within Scouts, or something they are looking forward to doing. On the back of the pennant, please can you include some information about your Section, Group or Unit (your Section/Group name and Group logo/badge) and the first names (no last names) of the young people within your Section, Group or Unit (this can be handwritten or typed). Please send in your ONE chosen pennant per Section.
We will leave the activity up to you to plan, but this could be done face to face (following the COVID guide lines) or virtually. One idea would be to run it as a competition, where each young person designs the front of the pennant and a winner is chosen. This can also count towards certain badges, like the creative activity badge.
Once you have drawn your pennant, please copy it and keep a copy for your Section/Group/Unit, then please email it to us at [email protected] If you would like to see your pennant displayed at our Christmas event, please send them in by the 5th December 2020.
If you have any questions, please contact us at [email protected]
click here to see an example Programme-Pixies-Pennant.pdf
We know from the fortnightly Explorer Scout Leader's catch up that looking for exciting programme ideas is a top priority for all of us as we adapt to a programme online rather than a programme in person.
Our answer to this was to follow our Scout values and in particular co-operate. So we've launched the Explorer Scout Online activities hub as our answer.
It is the result of collaboration and teamwork from leaders all over the county as they share ideas they have found, tried, tested and want to recommend. From quizzes to escape rooms there is plenty to keep our young people entertained. Plus ways of leaning new skills and even full programmes and slides for your next Zoom meetings.
Our hub isn't finished. After all it is constantly growing with new ideas being added as we discover new gems and try things out. We'll always take on new ideas and put them into the hub for you.
Update from 14th July:
The Scouts have now helped make this task even easier with a page full of activities and games you can do over Zoom or in face-to-face social distanced activities. It also includes suggestions for Young Leaders and Top Awards. Check it out along with the other ideas and resources around you.
So play your part, share new ideas, dip in the pool of knowledge and keep Scouting going in your area.
Links:
For many Explorers and leaders expedition season is marked in the calendar for good reason. With Coronavirus, we've had to put that on hold with residentials on hold until at least the 25 September and until we return to a green, virus free, situation. Our Open Gold expeditions have been pushed back to 2021.
While this may of course change, and you can find the latest guidelines on top awards on the Scout website, it isn't the end for DofE and the Chief Scouts Awards and Queen's Scout Awards. So what can be done?
Volunteering, Skills and Physical challenges
It may sound obvious but the three longer term challenges that contribute to the DofE, Chief Scouts and Queen's Scout Awards can all be worked towards during this time.
You can find a very useful and comprehensive list from the DofE themselves and participants for the DofE are able to change their activity and keep time already completed banked for the award.
ICV activities
The bonus activities for the Chief Scout's Platinum Award, Chief Scout's Diamond Award and the Queen's Scout Award can also be worked on at this time.
Some of the activities for example involve running activities for other sections on a theme or with your unit. In lots of cases you can still run activities virtually and complete this part of the award.
Drop us a line:
There are more adaptations available and ideas out there. If you want to discuss a specific question or run an idea past us then do have a chat with our Top Awards team and out Assistant County Commissioner for Top Awards, Mike Baxter.
We all like to know when we're doing a good job and know what we could improve. If we never learn from our failures then we're doomed to repeat them and we wouldn't continue to grow as a movement.
So how do we know when we're doing a good job? Thankfully the answer can be found on one sheet of paper. Enter the Quality Programme Checker for Explorers and for Young Leaders.
Simply glance through each of the statements and work out whether your unit falls under the red, amber or green statement. If you've got mostly greens then you've got something good going on there whereas an amber or red might prompt you to think what we can do to change that.
This isn't about inspections or gradings but is a supportive document for you to help you be the very best your unit can be. Thankfully there are resources to help you fix each of these areas. It only takes 5 minutes but they can be very rewarding and useful.